The closing ceremony, held in the Avditorij Portorož, marked the beginning of the end of this year's EGMO. This was the time to praise all our participants for their effort, uniqueness, and creativity. 
Nik Škrlec, the host of the closing ceremony, ensured with humour that the atmosphere in the auditorium stayed relaxed, a nice juxtaposition to the anticipation of receiving rewards. The audience was greeted by prof. dr. Darjo Felda, Minister of Education, and prof. dr. Primož Potočnik, the president of DMFA (Society of mathematicians, physicists, and astronomers of Slovenia).
The magical sounds of a harp, performed by Slovenian golden harpist Bilka Peršič, introduced the award ceremony. The honourable mentions were asked to stand up and received a huge applause by the audience. Then the bronze, silver, and gold medallist were called on the stage where they received their medals. A special award was presented by Mr. Geoff Smith to the best European team of 2023, the team from Ukraine.
The chief organizer of EGMO 2023, Lucijana Kračun Berc, and the Slovenian silver medallist, Katarina Grilj, passed the EGMO flag to the next year's organizers, the representatives of Georgia. Lucijana Kračun Berc thanked the organizing team, the team leaders and coordinators, and of course the volunteers without whom EGMO 2023 would be impossible to carry out.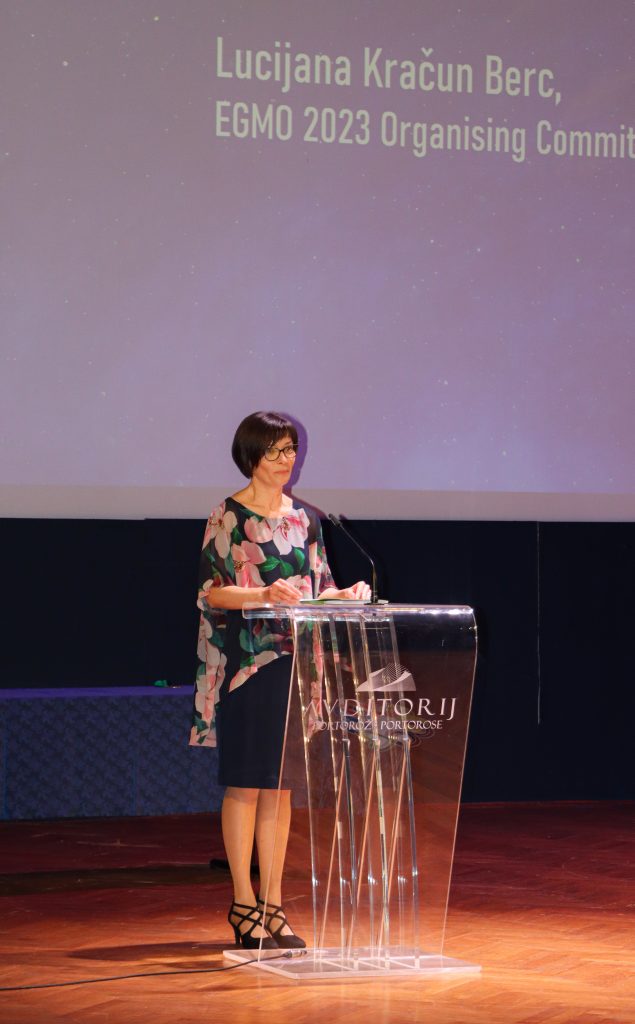 A heartfelt thank you goes out to the director of both the opening and the closing ceremony, dr. Boštjan Kuzman. For the photos of the praising visit our gallery.