Today's opening ceremony marks the start of the European Girls' Mathematical Olympiad. This year 214 female competitors and 54 countries are participating, and we are happy to notice that more countries from outside of Europe are joining the prestigious competition. Apart from the competition, an important aspect of EGMO is socializing with peers and encouraging girls for STEM jobs of the future.
Master of ceremony, Nik Škrlec, addressed the crowd through a relaxed and comic monologue. After the Slovenian national anthem, this year's contestants were greeted and addressed by the President of the Republic of Slovenia Nataša Pirc Musar, PhD.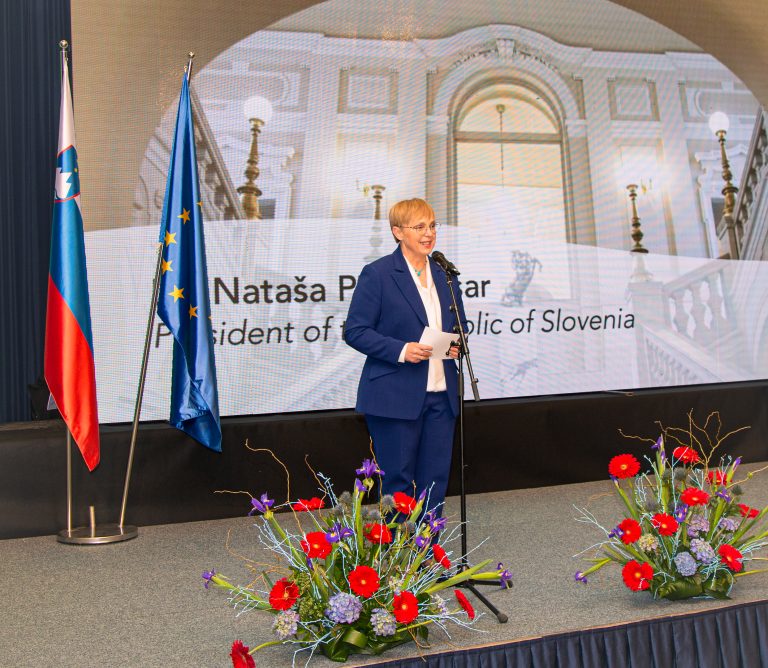 After many encouraging and motivational words, which received a loud applause, the contestants were greeted in three languages by prof. dr. Darjo Felda, Minister of Education, followed by prof. dr. Klavdija Kutnar, rector of the University of Primorska.
Ana Meta Dolinar, a multiple EGMO participant and a recipient of three bronze EGMO medals, inspired the contestants with her own success story, experiences she gained at these competitions and the bonds she created. Pursuing a master's degree at Cambridge, she truly reflects intellectual and professional growth.
Next, the contestants carrying their national flags presented themselves on stage accompanied by the rhythmic sounds of SToP (Slovenian percussion project).
The opening of EGMO 2023 was officially announced by Mrs. Viviane Kehl, the president of the EGMO Board, and was concluded with the Olympic oath, declared by Slovenian competitor Katarina Grilj.
We are honored to have hosted such an amazing assembly of guests, including the 2022 Fields Medalist Maryna Viazovska from Ukraine.
We also sincerely thank all our sponsors, in particular the Platinum sponsor Jane Street.
More photo footage can be found in our gallery.